VITP Amenities
The recipe for success at VITP is simple – its people.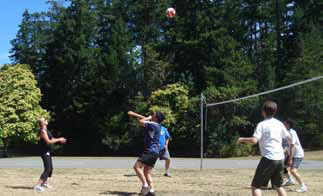 The recipe for success at VITP is simple – its people. In today's world, in order to attract and retain quality talent, companies need to create an environment that enhances productivity and efficiency. Access to a FIFATM regulation soccer field, café, lounge, fitness centre and walking trails are just some of the luxuries that have become a part of the daily-life for those that populate VITP.
The Hard Drive Café opened alongside VITP in 2002, is owned by the Park and operated by Geffen Gourmet Catering. The café mirrors the VITP's dedication to sustainability and works to source organic, local and recyclable products and; of course, offers an exceptional menu to staff and visitors of the Park.
Prefer to take your break outdoors? VITP's property spans 35 acres and offers multi-use trails and pathways that connect to the District of Saanich Centennial Trail loop.  If you're looking for a competitive outlet on your lunch hour you can organize a company game on either VITP's basketball or volleyball court. If field sports are your fancy you can walk across the parking lot to Layritz Park and enjoy access to the baseball diamond or FIFATM regulation soccer field.
VITP's fitness centre is available for all employees of the Park 24/7. The gym is equipped with weights, machines, treadmills, steppers, bikes and rowing machines. Change rooms offer individual shower stalls and lockers. Personalized training is available through a third-party fitness trainer.
VITP is fortunate to be located within a large grid of biking trails that make it easy for bike enthusiasts to travel to and from the Park. A secure bicycle lockup facility is available and offers 24-hour camera surveillance.
The spring and summer months draw many tenants to VITP's basketball and volleyball courts. During breaks and lunch hours, it is common to see companies outside cheering on their colleagues in friendly games of basketball and volleyball.
Known as "the heart of the park" the Conference Centre is open for both tenant and public use in two separate spaces: the conference room and the boardroom. This state-of-the-art facility is monitored by security 24/7 and is designed to host a wide variety of events that range from large press announcements to intimate board meetings.
The LinkLounge is the latest addition to VITP's service offering. It extends the traditional office borders to include a collaborative space for both tenants and visitors to hold impromptu meetings, work outside of their desk and get the creative juices flowing.