UVIC Connection
Experiential Education – the UVic focus
As VITP is an enterprise of the University of Victoria (UVic), the Peter B. Gustavson School of Business, the Faculty of Engineering and the School of Earth and Ocean Sciences have become increasing sources for student employment, development and mentorship at the park – helping draw some of the brightest minds to our community and keeping them here.
By providing one-on-one introductions, mentorship referrals, and networking sessions, VITP offers access to industry and promotes opportunities for co-op and graduate students to be absorbed into our companies.
Through the Thought Leadership Series, VITP provides both undergraduate and graduate students the opportunity to
learn from and interact with innovative "thought" leaders and then participate in a networking session with local business leaders.
The secure ties to UVic also allow VITP to leverage its academic resources and provide our tenants with unmatched access to students, faculties and research platforms in order to help grow and develop their companies.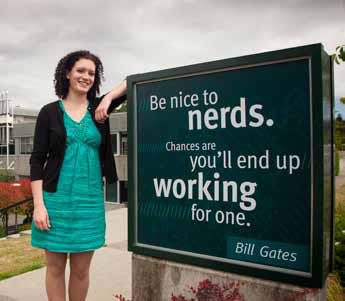 "UVic's co-op program has provided me with the opportunity to build relationships and connect with the Victoria business community. My position at Vancouver Island Technology Park has given me hands on experience writing business cases and working with local entrepreneurs. This job has been invaluable in expanding my skill set outside of the classroom."
Fiona Nordean, past co-op student with VITP and 10,000th placement from the UVic Peter B. Gustavson School of Business.