University Club of Victoria

The University Club provides a secluded and beautiful environment for almost any purpose; it is a great place for business meetings over lunch, special events, conferences, and any gatherings or events.
The University Club offers meals and catering provided by their in house culinary staff, from breakfast to buffet lunches, catered dinner events and delectable desserts. There are a variety of rooms for dining, with different menus for each room. In addition to these rooms, there are many smaller rooms that can be used for various meetings and events. Each room in the University Club is beautifully designed and the set up of the rooms can be tailed to the user's needs.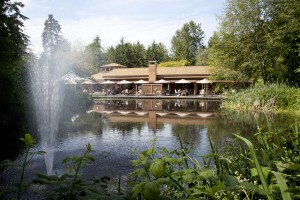 In addition to its many rooms, the University Club has a beautiful outdoor patio area. Surrounded by quiet trees and a tranquil pond, the patio can be used to host events or simply be used for a casual lunch.
University club members are free to use the club at any time and are given discounts in the club's first class restaurant. Members are also welcome to attend the many events put on by the University club every month.
Some events that have been held at the University Club include teas, luncheons, dinner banquets, weddings, dances, retreats, conferences, and meetings for groups of 10 to 250. The University Club is diverse in its uses.
A variety of memberships are available:
Regular Member– all UVic faculty and staff are eligible for this member.
Associate Member– members of the Victoria community, UVic Alumni Association, and Faculty Clubs of other universities
Retiree Member– regular members for at least 5 years who has retired fully from the University.
Corporate Membership– Corporations are cordially invited to join the University Club as Corporate members.
Some current corporate members include: CIBC, RBC, HP Advanced Solutions, LEAGUE Financial Partners, Vancouver Island Health Authority, and the Queen Alexander Foundation.
For more information, membership fees, or to apply for your own membership, visit the Club's website
Visit the University Club of Victoria's Facebook page for more pictures of some of their great events