VITP Update – Goward Springs Creek Restoration Project
The Goward Springs Watersheds Stewards (a volunteer group) have been working to restore the riparian forest along the section of Goward Springs Creek which flows through VITP property. In order to restore the natural salmon habitat, invasive species have been cleared and extensive planting, mulching and watering of 540 new trees have taken place on site.
More than 620 hours of volunteer work were contributed in 2014 and will continue into 2015.
For more information or to become involved email officecoordinator@vitp.ca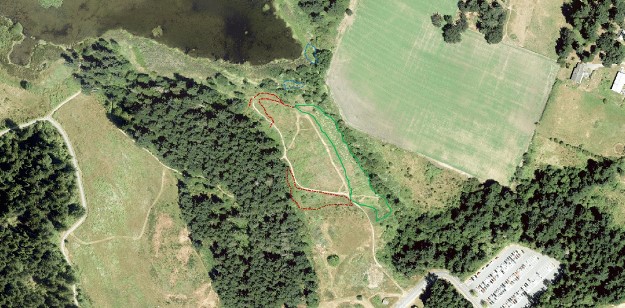 Picture 1. Map of the restoration planting project. The green line outlines the riparian restoration area along 200 meters of the creek, the dotted red outlines two forest corridors that are being restored and the blue dotted line shows areas around the weir that were infill-planted.
Picture 2. The yellow line is Goward Springs Creek downstream of the planting project. The area (approx. 2 ha) inside the red line has invasive plants removed.