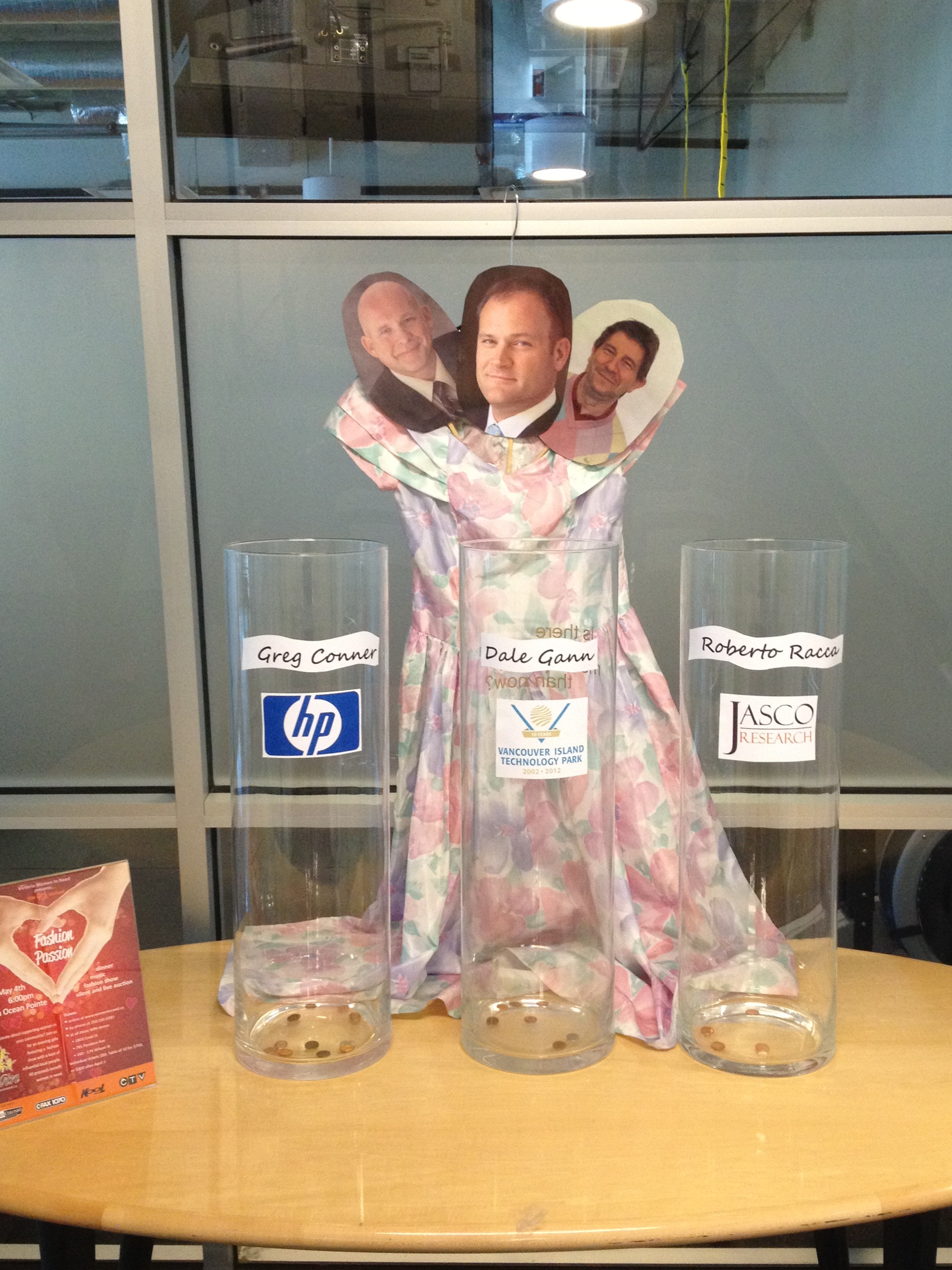 The Victoria Women in Need Community Collaborative (WIN) is hosting their 4th Annual Fashion with Passion Fundraising Gala on May 4th, 2012 at the Delta Ocean Pointe Resort.  As the Vancouver Island Tech Park is committed to giving back to our local community we thought we'd take part this year and pledge to raise $1000!   As I have been asked to  "model" (I say this with great sarcasm) in this years fashion show and strut the runway in sassy outfits from the WIN stores, I thought that it would only be fair to invite a prominent executive from the VITP community to participate in the event with me.
So the QUESTION was raised: How can we get the VITP community involved, raise some money for the cause all while having fun?
The ANSWER: Let's take Dale Gann, President of VITP, and put him up against two other prominent executives from the VITP Community, paste each of their faces on a large glass vase and have a penny drive. We're asking you to empty your pockets and fill the vase representing the person you'd like to see WIN and model in this years show! On April 27th at noon we will count the coins with each cent counting as one vote and the person with the most votes will get to strut the runway with myself and all the other daring models.
The CATCH: The "losing" executives will get to chose an outfit from the WIN stores for the "winning" executive to wear down the runway.  Did we mention WIN primarily carries women's attire?
Now you must be wondering who the two lucky executives are that have agreed to go up against Dale in the battle extraordinaire? Greg Conner, VP of Human Resources at HP Advanced Solutions and Roberto Racca, Director / Chief Communications Officer at JASCO Applied Research have agreed to participate!
So bring in those pennies that are useless now anyways (and of course coins and or bills are more than welcome!) and fill up the jar of the executive you want to see win… remember the losing executives will choose the outfit that the winner will model in the show.  Lastly, don't worry about a lack of media presence as this event has the Times Colonist, CTV, Kool FM and CFAX on board as Media Sponsors so there will be plenty of documentation!
Interested in attending the Gala?
Tickets are $80 for an individual ticket.  Tables of 10 can be purchased for $750.
If you would like to find out how to sponsor Fashion with Passion, or to donate an auction item, please contact Tami Tate at 250.595.8381 or email at tami@womeninneed.ca 
Last year's event was held on Friday May 6th featuring a Fashion Show, Buffet Dinner, Dessert, Silent Auction and Live Music!  Over 150 people attended, and it was a great success thanks to our incredible sponsors, and the models made up of well known people in our community who volunteered their time to strut their stuff on our catwalk!  For a look back at last 2 years' event photo gallery, click here.
If you'd like to be kept up to date on the fundraising contest make sure to like us on Facebook and follow us on Twitter!
Nikki de Goey is the Manager of Culture and Corporate Relations at Vancouver Island Technology Park.