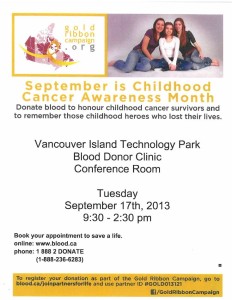 VITP is hosting another blood donor clinic in the Conference Room on Tuesday, September 17th from 9:30am – 2:30pm. We can't emphasize enough how important this cause is, and every donation makes a huge impact on someones life. Not only is it important to continue to give blood on a regular basis, but September is also Childhood Cancer Awareness Month and this clinic will be part of the gold ribbon compaign.
Book your appointment now, to save a life.
Online: www.blood.ca
Phone: 1 888 2 DONATE (1.888.236.6283)
*Donate blood to honour childhood cancer survivors and to remember those childhood heroes who lost their lives.
The last clinic we held had the highest number of donors ever from VITP, so let's try and top that number again!
Drop-in appointments are also available but they fill up fast, so to ensure your spot make sure you schedule an appointment.
Check out this video for more details on the Gold Ribbon Campaign.