Did you hear? We launched a 60-day Facebook campaign at Discover Tectoria last Thursday! As the official sponsor of Startup Alley, we wanted to reinforce to the technology community that the Vancouver Island Technology Park continues to support companies big and small from start-up to Fortune 500.
By simply 'liking" our Facebook Page and entering our contest you could be the lucky winner of an 8gig iPod Touch! The contest closes February 8th, 2012.
VITP is not only the place where Great Ideas Happen but also the place where they can grow.  Providing an ideal business friendly environment for companies big and small, VITP is the mecca of innovation and technology commercialization in the region.  35 acres, 190,000 square feet, 33 technology companies employing 1100 of the regions brightest individuals all combined make VITP the Place to Hit the Ground Running.
VITP boasts a power of place….a physical and cultural environment that have proven to be true magic.  "Architecture facilitates relationships", "collaboration through co-location" are just a couple of the real benefits of being located at the park.
The scope of services and expertise VITP offers is unlimited.
•       VITP creates an environment that allows companies to attract and retain high-value jobs for the community.
•       VITP assists in the identification and introduction of angels, venture capitalists and institutional bankers.
•       VITP promotes the reputation of its companies and academic institutional partners.
•       VITP partners with technology associations to attract and retain high-technology companies.
•       VITP develops lasting partnerships among regional, national and international industries, governments and academia institutions.
Thinking of locating at VITP or wanting to find out more information? We have commercial office space for lease to accommodate start-up to medium sized companies.  Contact us today!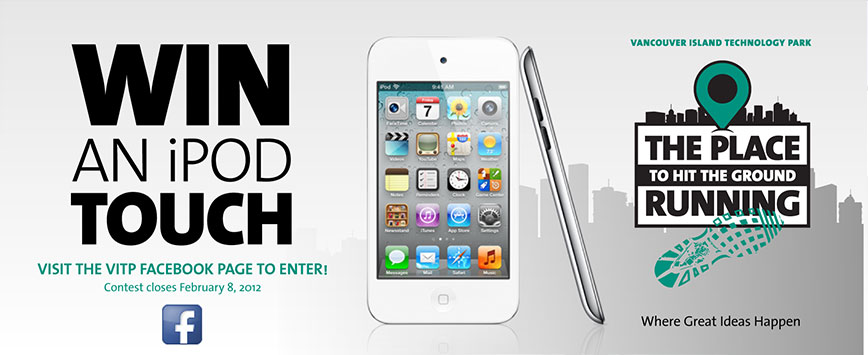 Visit www.facebook.com/myvitp to enter!
Nikki de Goey is the Manager of Culture and Corporate Relations at Vancouver Island Technology Park.