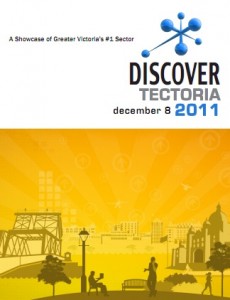 Have you heard the news? VIATeC and the Greater Victoria tech community will be putting on Discover Tectoria (pdf) (the cool kids call it DiscoTec) on December 8th, and Vancouver Island Technology Park is proud to be part of it. Dozens and dozens of Victoria's advanced technology companies will be attending DiscoTec in early December to show off all the cool things they are working on to make Victoria the fastest growing tech hub in the province.
More importantly, DiscoTec is all about fostering up-and-coming talent to continue to build a strong tech sector – and provide interesting, high-paying jobs for Victoria graduates.
That's why Vancouver Island Technology Park will be sponsoring "Startup Alley". Startup Alley is where Victoria's newest companies will have the opportunity to show the Victoria community what they're up to, to help generate interest (and perhaps even investment dollars!). It'll be a lot like  VIATeC's recent Launch Party, where the coolest kids in the room wowed seasoned tech folks with their latest gadgets, gizmos and products that will undoubtedly revolutionize the way we live.
We want to encourage you to attend Discover Tectoria at the Victoria Conference Centre (actually, the cool, cool Crystal Gardens across the street) on December 8th. For one thing, we hear VIATeC has arranged for more than 1200 local students to be bused in for the day. As well, it's a great chance to learn more about what's up in the tech sector and to show your pride in our community.
And be sure to look for us in the Startup Alley.
New DiscoTec site is live check it out to find out more event details!
Nikki de Goey is the Manager of Culture and Corporate Relations at Vancouver Island Technology Park.
Victoria Launch Party II from Dan Gunn on Vimeo.