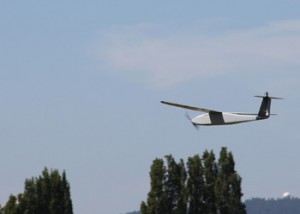 On Thursday, federal deparment Western Economic Diversification announced $671,500  for UVic's new Centre for Aerospace Research.
The new Centre for Aerospace Research located near Sidney, BC is positioning itself at the leading edge of aerospace research and at the forefront of an emerging industry in Western Canada.
The federal funding will allow UVic to establish a niche in the new market of efficient and highly configurable UAV's at a competitive costs. UAV's are increasingly being used for a broad range of purposes including search and rescue, border patrol, firefighting, crop monitoring and aerial mapping.
Civilian UAV commercial use is just starting in North America. The niche and opportunity in the marketplace is the gap between unreliable hobby-grade aircraft and expensive turnkey ("off-the-shelf") systems geared specifically for government and military use.
At present, UAVs for civilian application are priced well beyond the reach of industry and researchers.
The centre will focus on designing safe and affordable devices that have practical applications.
UVic's aerospace design facility will work closely with industrial partners and Transport Canada, and is supported by $671,500 in Western Economic Diversification funding as well as over $1 million over the past five years in cash and in-kind funding from industry and government partner organizations.
The UVic UAV team (UVic's Faculty of Engineering) will be led by aerospace engineer and centre director Prof. Afzal Suleman and, in addition to two colleagues, currently includes 10 undergraduate students and five graduate students including PhD student and centre manager Jenner Richards. UVic's Aero Club will also play a role in development.
UVic intends to produce—from the ground up, through conceptualization and design to manufacture, testing, operation and monitoring—a family of airframe prototypes that can be readily customized for commercial and research purposes. The new inventions and industrial patents, filed with assistance from UVic Industry Partnerships, will be made available for licensing to industry.
The centre's industrial and government partnerships include, to name a selection: Viking Air (North Saanich, BC); Meggitt Training Systems Canada (Medicine Hat, AB); Natural Sciences and Engineering Research Council of Canada; Canadian Centre for Unmanned Vehicle Systems; Institute for Aerospace Research (Brazil); Council for Scientific and Industrial Research (South Africa); Camosun College, Simon Fraser University, Virginia Tech University (USA), University of Bristol (UK) and the Instituto Superior Tecnico (Portugal).