VITP's own Dale Gann was proud to receive VIATeC's Colin Lennox Award for Technology Champion at the 2012 VIATeC Awards last week. With its innovative Star Wars theme, the Tech Awards was a goofy, sometimes raucous but always entertaining evening, and Dale's acceptance of the Colin Lennox Award provided Victoria's tech sector with a chance to reflect on how far they have come over the past decade as a community.
Here's what some key folks in Greater Victoria's tech community had to say about Dale's ongoing efforts as a technology champion:
Colin Lennox played a strong role in helping foster tech companies in Greater Victoria. Although he passed away in 2004, Colin is still fondly remembered by many, many people in Victoria's technology industry, including many people present at the Victoria Tech Awards last week. Colin was a great supporter of, and mentor to, dozens of Island tech companies for over a decade, and lent helping hand to many, many companies – especially startups.
Read more about Colin Lennox here (scroll waaaay down to the end).
Dale was very touched and honoured to receive the 2012 Colin Lennox Award from VIATeC. Here's what he had to say when he won the award:
As you all know, most things are best achieved working in a team. I believe all of us here tonight are on the same team, and if we aren't, we should and must be. We must have a shared vision of growing our knowledge community. Someone who shared this vision was Colin Lennox.
Colin Lennox understood the importance of collaboration, sharing knowledge and the significance of community in growing small businesses. And with this, I am so honored to receive this Award.
I've always believed it takes a neighborhood to build a community.  Our neighborhood of Tech Workers has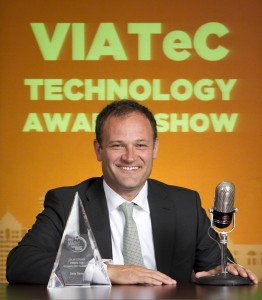 accomplished a great deal. I'd like to take a moment to look back on the past ten years and a number of amazing milestones.
Barely six years after its founding, Aspreva Pharmaceuticals capped a meteoric rise through Canadian biotechnology ranks by cashing in on a 915-million dollar deal. We have seem the remarkable rise of companies like Vecima Networks, Beanstream, Genologics, TeraPeak and AbeBooks, to name a few. Most recently Microsoft Entertainment Division has established Microsoft Studios in Victoria.
So where do we go from here?
I think we can look at the city of Waterloo – an internationally recognized intelligent community, that produces fortune 500 companies, sees two new start ups a month, attracts multinational companies like IBM and RIM, and boasts three post secondary learning institutions.
We too have three post secondary institutions, a technology park, major research platforms such as Venus/Neptune and STEHM, a recently launched accelerator center, a technology association and a plethora of start-ups and savvy entrepreneurs. So what makes Waterloo so successful? What sets it apart?
Each component- government, academia and industry – share a vision and work together, rather than in silos, to achieve their mutual goals. They are entirely engaged population. Working as one has enabled a successful reinvention within 100 hundred years from a farming community to a high technology Mecca.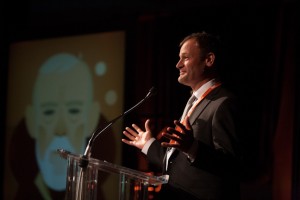 So how are we going to blow Waterloo out of the water in the next ten years?
I believe it starts with the K to 12 system. 
Are teachers today educating for the jobs of tomorrow? Is our education system producing the talent we need? Companies need great people to grow but to attract this talent we need to offer them great opportunities.
Obviously Victoria is an amazing place to live.
The lifestyle, the lack of traffic (in comparison to Waterloo, anyways), direct access to the Bay area, travelling from sea to sky in less than a day, the only thing preventing Victoria from one of the largest cities in Canada is the real lack of opportunities. 
We need to work together. We, like Waterloo, need to be an entirely engaged population, focusing on creating and facilitating these opportunities and adapting when necessary.
They say two heads are better than one, imagine what we could do with a city of brilliant minds?
I stand here and I looking back on all the accomplishments we have collectively achieved in the last ten years and I challenge each and every one of you to take an active roll, working together in making the next ten, even better.