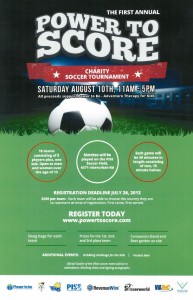 RevenueWire is hosting the first annual Power to Score charity soccer tournament right next door at PISE!
The event will be held on Saturday, August 10th from 11am – 5pm with all proceeds supporting Power to Be – Adventure Therapy for Kids. The tournament will consist of 18 teams of 5 players plus, and is open to men and women over the age of 13. All matches will be played on the PISE soccer field (located behind VITP at 4371 Interurban Road.) Each game will be 30 minutes in length with two 15 minute halves.
Registration deadline is July 26th, 2013. Click here to register!!
Cost: $250 per team. Each team will be able to choose the country they are to represent at the time of registration on a first come, first serve basis.
There will be prizes for the 1st, 2nd and 3rd place teams, with swag bags for all teams and will include a concession stand and beer gardens!
Additional events include: fastest shot and dribbling challenge for the kids. Extra bonus is that the official goalie of the UVic Vikes soccer team will be in attendance, blocking shots and signing autographs!
For more information on Power to Be, click here.