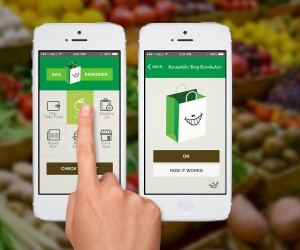 Leap Web Solutions has lots to be thankful for in the past few months, including the addition of two new full time employees, taking over additional office space and working on a huge new project.
Neil Tran, owner of Leap Web Solutions has had an extremely successful year and with the growing demand for his creative skills, has now hired on two full time employees, Simon Robinson and Devin Edwards. With his new team came the need for more office space, and Leap Web Solutions now occupies two offices on VITP's main floor near the Security Desk.
A huge opportunity came knocking on Neil's door when he partnered with old tenants of VITP, Dactyl Studios and together they created a new mobile application for Thrifty Foods. This was the first time Leap Web Solutions took on a mobile app and it goes to show that Neil and his team can really take on anything and make it a huge success. Check out their website for more details and contact information!
Congratulations to Neil and his team at Leap Web Solutions, we are so excited to see what your future holds! Here is the article as posted in today's issue of the Times Colonist.
On the Street: Thrifty Foods unveils mobile app
Neil Tran of Leap Web Solutions and Curtis Duggan of Dactyl Studios have created a new mobile application for Thrifty Foods customers. "We were able to include many great features and we're very pleased with the end user experience," said Tran. "We wanted to use large type, because we spend a lot of time on our phones and we know what a difference that makes."
Thrifty Foods started interviewing local design and programming companies in June and had a clear vision of what they wanted to see – simple, no-nonsense features that would be easy for customers to navigate and would also allow for special offers and alerts that could be shared with app users in all markets. They also wanted an app that would work well on all iPhones and Androids – a tool for customers to get quick updates on special offers that would make the shopping experience easy.
App users can spot seasonal offerings on the company's reserve and pickup service and early previews of favourite products that have just arrived in store. The new app includes the Thrifty Foods weekly flyer, special deals, grocery-list memory bank, recipes and the ability to tap and store ingredients to lists, a store locator and storage of Club Thrifty Foods card number. The Thrifty Foods app is available for free from the Apple App Store and Google Play store.
View the original article here