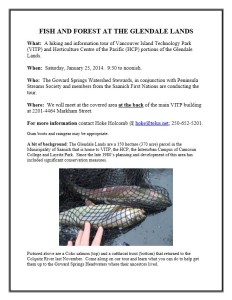 The Goward Springs Watershed Stewards (GSWS) is a group that was formed several years ago to facilitate restoration work in this part of the Colquitz watershed, which is salmonid bearing river system that has been undergoing a number of restoration efforts over the past few decades.  They are currently working with VITP and the Horticulture Center of the Pacific to rehabilitate a reach of Goward Springs Creek that flows on both properties. In a recent assessment of the watershed, this reach of creek was listed as the highest priority work area of the fifty-seven reaches studied.
The group has members with expertise in several areas of habitat restoration work, good contacts with volunteer groups working in other sections of the Colquitz watershed and access to a reliable and well trained group of volunteers.  VITP is involved with this project because it is on our land, but the strength of our support is because we have always included enhancement of the natural habitat on our and surrounding Glendale Lands as part of the process of developing and maintaining the Vancouver Island Technology Park. In addition to our efforts to support the project financially we have instructed our Grounds Superintendent and Office Manager to aid the GSWS in their efforts. This aid includes developing a site for storage of tools that will be used by conservation volunteers working on VITP land and use of our website and social media sites for distributing conservation information and recruiting volunteers from amongst the 1,200 people working on this site.
A hiking and information tour will be taking place at VITP on Saturday, January 25th at 9:30 am. If you or anyone you know would be interested in joining in on this project, please feel free to take part in the tour to learn more details. Who is leading the tour? The Goward Springs Watershed Stewards, in conjunction with Peninsula Streams Society and members from the Saanich First Nations.
Would be a great way to get involved in the local community and nature by helping restore this area and bring salmon back to the creek!