Parking
Welcome Visitors and Guests!
We are pleased to announce that we have complimentary guest parking stalls at the front of the building, and complimentary guest parking stalls at the back, further increasing the level of hospitality that we offer visitors to the park. These stalls are complimentary and are specifically for 'Guests Only' for 2 hours or less. If you anticipate that your visit at VITP will be longer than two hours please park in the general parking areas (shown in brown below) and purchase a ticket from a terminal.
For Employees:
VITP provides seven parking lots for our employees that are managed by Robbins Parking. Employee parking is not permitted in Guest Stalls.
Specialized parking is available at VITP for regular-sized vehicles, motorcycles and scooters. Monthly parking inquiries should  be directed to Robbins Parking by calling 250.382.4411 or emailing monthly@robbinsparking.com. Once you have arranged for monthly parking your decal will be available for pickup from the VITP Collaboration Centre Welcome Desk.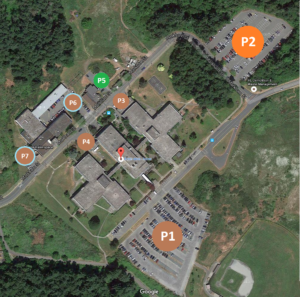 Short Term Parking Options:
For short term parking rates in the front and rear lots please see below.

Parking Meters – $2.50 for 4 hours, $5.00 all day, $22.50 weekly.
Motorcycle Parking: 50% discount. Please contact Robbins Parking to obtain the special parking rates and tags.
Long Term Parking Options:
If you find yourself driving to work more often than not, signing up for a Monthly Parking Permit is the most cost effective solution.
$64 monthly in the front and rear lots, and $54 in the North lot only. The North lot requires a special tag and purchasers of this tag will not be permitted to park in other lots onsite. Please note that due to high demand for North lot permits, a wait-list has been created once the maximum number of permits have been assigned. Monthly parking is only permitted for employees who work on-site.
These meters accept coins and credit cards but do not give change.
Be sure to keep your hourly, daily or weekly passes safe, as these cannot be reimbursed.
For monthly parking permits please contact:
Robbins Parking
250.382.4411
monthly@robbinsparking.com