Parking
Welcome Visitors and Guests!
We are pleased to announce that we have complimentary guest parking stalls at the front of the building, and complimentary guest parking stalls at the back, further increasing the level of hospitality that we offer visitors to the park. These stalls are complimentary and are specifically for 'Guests Only' for 2 hours or less. Visitors and guests must register for the complimentary guest parking stalls with the business they are visiting. If you anticipate that your visit at VITP will be longer than two hours please park in the general parking areas (shown in brown below) and purchase a ticket from a terminal.
For Employees:
VITP provides seven parking lots for our employees that are managed by Indigo Parking Services. Employee parking is not permitted in Guest Stalls.
Specialized parking is available at VITP for regular-sized vehicles, motorcycles and scooters. Monthly parking inquiries should  be directed to Indigo Parking Services by calling 778.746.7588 or emailing guestservices.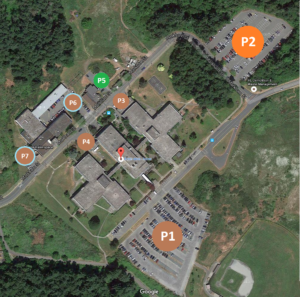 Short Term Parking Options:
For short term parking rates in the front and rear lots please see below.

Parking Meters – $2.75 for 4 hours, $5.50 all day, $25.00 weekly.
Motorcycle Parking: 50% discount.
For monthly parking permits please contact:
Indigo Parking Services
778.746.7588
guestservices