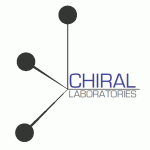 The Innov8 Hub at VITP has seen the addition of three new companies this month, and Chiral Laboratories is the latest! We are very excited for Brent to be moving into his new 500 square foot office where he will reside until we can get his custom lab space built.
What exactly does Chiral Labs do? Chiral Laboratories is an analytical testing laboratory focused on the qualitative and quantitative analysis of Natural Health Products (NHP's), nutraceuticals, additives and herbal products. The scope of testing includes active compound identification/quantification and chemical residue screening. Chiral Laboratories is active in the research and development of new testing methods and innovative improvements on existing benchmark methods to aid in project specific or routine testing analysis. Research assistance to clients can be provided by the isolation, identification, efficacy and quality procedures of projects dealing with NHP's and herbal products.
We look forward to lots of interesting things to come from this company – welcome to VITP!
For contact details click here.