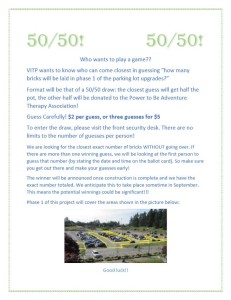 Are you up for a challenge? VITP wants to see who can come closest in guessing "how many bricks will be laid in phase 1 of the parking lot upgrades?" And what's a better prize then cold, hard cash?
Details:
Visit the security desk to enter the draw and make your guesses.
$2 per guess or 3 for $5.
There is no limit to how many guesses you can make!
The winner will be announced once the project is complete and we have an exact total.
We expect this to take place in September – so there is plenty of time to make some guesses!
The closest guess without going over will take home half the pot, with the other half being donated to the Power to Be Adventure Therapy Association.
Get the calculators out and let's see who can come closest!!!